Worried? Need help?
Need help right now?
Need help right away – call 999. Can't talk – tap 55 on your phone, or cough/sigh etc and the police will know you need help and track your locations.
In a bar/hotel/public space and need help – you can "ask for Angela" – which will indicate to members of staff that you are in danger and they will alert the authorities.
Not sure where you are? Use apps like "What3words" to share your precise location.
Worried? Need someone to talk to?
If you have a trusted adult or close friend that you know, you might want to talk to them about what you're going through. It's important to remember that you are not alone in this and there is always someone who can help you. Even if you are worried you might get into trouble; the most important thing is for you to keep safe. Some of the people you are talk to are:
your parent or carer
another member of your family
a teacher, or someone you trust at school
your doctor
a professional you trust
a counsellor
a religious leader
Remember, however difficult it is, you will probably feel better just for talking about your feelings, and it is important that you are not struggling on your own to cope.
If you are not sure how to start the conversation, the best thing is to be honest; for example, you could say, "I want to tell you something but I don't know how …" or " I want to tell you something but I'm worried I might get into trouble…" an adult should understand that you are about to say something important, and that it's not an easy thing for you to do.
Top tips to help talk to someone:
Write down some of the key points you want to say – you could even write it as a letter that you could share.
Have a think about what you would like to get out of telling someone? Do you want some actions to come out of it, or do you just need someone to listen?
Remember if you are talking to professional (like a teacher or support worker) and they are concerned about you safety, they may have to share the information with other professionals. They will tell you if they need to do this – don't be put off by it – it's all done to help keep you safe.
If you can't face talking to someone face to face, there are lots of National organisations you can talk to over the phone, via messenger or through online chat.
Locally in North Yorkshire you can access support through Compass Phoenix and their 'BUZZ US' service: https://www.compass-uk.org/services/compass-phoenix/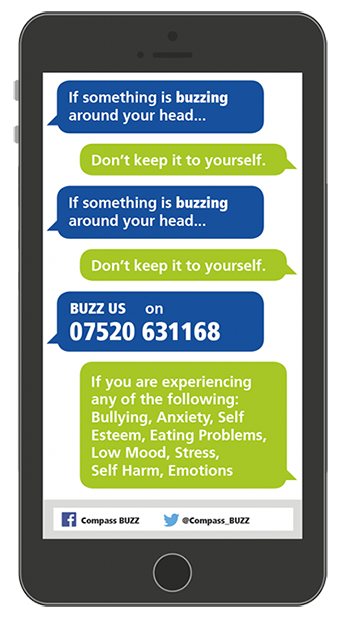 Information about further local offers of help in North Yorkshire can be accessed here:
I'm worried about my friend:
If you are worried about a friend and some of the things they may be getting up to, it can be a difficult time. Maybe you have started to notice some differences to them and their behaviour that you are worried about? (Find out more about the signs here.)
If you are worried, it really important to speak to someone you trust – like a teacher or a member of your family to share your worries. You are not 'grassing them up' and not getting them into trouble, but sharing your concerns which could help keep them safe.
Remember if a mate is being exploited they are being groomed by another person. Part of that process is to cut them off from the people that really care about them (like you), so if a mate becomes distant, don't think it's your fault. Ask yourself who has come into their life (either face to face or online)?
If a mate is being distant or pushing you away it can feel really hurtful and upsetting. Try to remember that they may be doing this because they are being tricked into it by someone grooming them and it's not their fault. Be there for them if and when they need you (you'd want the same if it was the other way round).
Talk to them. If you are worried about a mate, tell them. You could share some of the key safety messages on here (attach link ) and if they are going somewhere encourage them to share where they are going. Don't ever put yourself in a dangerous situation to help them– talk to any trusted adult who can help or of they are in immediate danger contact the police.