Child Criminal Exploitation
What is Child Criminal Exploitation?
•Child Criminal Exploitation (CCE) is a type of child abuse. It occurs where an individual or group takes advantage of an imbalance of power to coerce, control, manipulate or deceive a child or young person under the age of 18 into any criminal activity.
•In exchange for something the victim needs or wants
•For the financial or other advantage of the perpetrator or facilitator
•Through violence or the threat of violence.
Child Criminal Exploitation does not always involve physical contact; it can also occur through the use of technology. Criminal exploitation often happens alongside sexual or other forms of exploitation.
Criminal exploitation takes many forms, the most commonly known relating to the supply and movement of drugs, often referred to as County Lines, offences in relation to guns and other weapons, money laundering, violent offences and in some cases Cuckooing where criminals forcibly take over control of a person's home.

Child Criminal exploitation is broader than just county lines and includes for instance children forced to work on cannabis farms, to commit theft, shoplift or pickpocket, or to threaten other young people.
County lines is a term used to describe gangs and organised criminal networks involved in exporting illegal drugs into one or more importing areas in the UK, using dedicated mobile phone lines or other form of 'deal line'.

They are likely to exploit children and vulnerable adults to move and store the drugs and money and they will often use coercion, intimidation, violence (including sexual violence) and weapons.


---
Harrogate Safer Communities, alongside North Yorkshire Council Ripon & Rural Early Help Service produced the below video to show how criminal exploitation can happen in North Yorkshire:
---
What does Cuckooing and being in a gang mean?
NYSCP have produced two short animated videos to explain what Cuckooing is and the different types of gangs young people may be involved in:
The Children's Society have produced a Slang Dictionary to support professionals, parents and carers to better understand the language young people may be using in association with criminal exploitation, particularly County Lines.

Click below to download a copy of the dictionary:

The Slang Dictionary

---
The Children's Society is currently highlighting the issue of child financial exploitation. There is an emerging trend that more and more young people are finding themselves the victims of financial exploitation.

Child Financial exploitation involves young people being groomed online to open bank accounts and launder criminal money. Criminals befriend young people through social media and online games. They offer them gifts, promise easy money, gaming credits, skins or cryptocurrency. Once they've gained a young person's trust, they force them to carry out fraudulent activities, like opening a bank account for them. 

As in all cases of exploitation, the risk falls on the young person; once an account has been opened, and money is withdrawn the banks will spot the fraudulent activity – with all the consequences directly effecting the young person as the account is in their name:
·       Closed or suspended bank account (in some cases for 5-7 years).
·       Could face up to 14 years in prison.
·       Suspended bank accounts can effect a young person's job prospects in the future.
·        May push the young person into further cycles of exploitation. Perpetrators may exploit young person's fear of punishment and may threaten to tell authorities unless they perform further criminal or sexual acts.

Spotting the signs:
More information about spotting the signs in our local community and businesses (including the banking sector) can be found here.
– Anxious, frightened, angry, showing signs of neglect or displaying other behaviours that make you worried about them?
– Behaving aggressively with you when discussing finances?
– Is there concerning activity related to a child or young person's account?
– Are they paying in small amounts frequently?
– Is there more activity than you would expect to see on a young person's account?
– Are there cash deposits or transfers from unknown sources?
– Are there a lot of transport or accommodation transactions on the account?

Conversation starters:
Its important to engage with young people about their finances and start the conversation about their money use.
·      What happened on…?
·      How are you finding managing your money?
·      That looks like a lot of money. Do you feel safe carrying that?
·      What platforms do you use…?
·      Are there any tricks or hints that are needed to use…?
·      That's really nice! It must have been expensive?

Perpetrators use online platforms such as online gaming networks or social media to exploit the vulnerability and needs of young people. Consider what questions you might be asking young people about their online or banking activity.
·      Do you know the person that this money has come from? Where do you know them from?
·      What purposes do you need money online for? Is it cash or is it cryptocurrency?
·      How do you stay safe online?
·      Have you seen anything online such as opportunities for quick cash? Do you think these are real or genuine?
Dangers of Criminal Exploitation
It's important to be aware of the risks of criminal exploitation or being involved in a criminal gang. Criminal gangs will use different tactics to recruit and exploit children including bribing, befriending, threatening or coercion. Dangers of criminal exploitation include:
subjected to threats, blackmail and violence
being arrested
theirs, family and friends safety threatened
risk of emotional abuse
substance and alcohol misuse
forced to commit crimes
not being able to leave or cut off ties with the gang
risk of physical harm, rape and sexual abuse
risk of being killed or severely injured
significant negative impact on education and future employment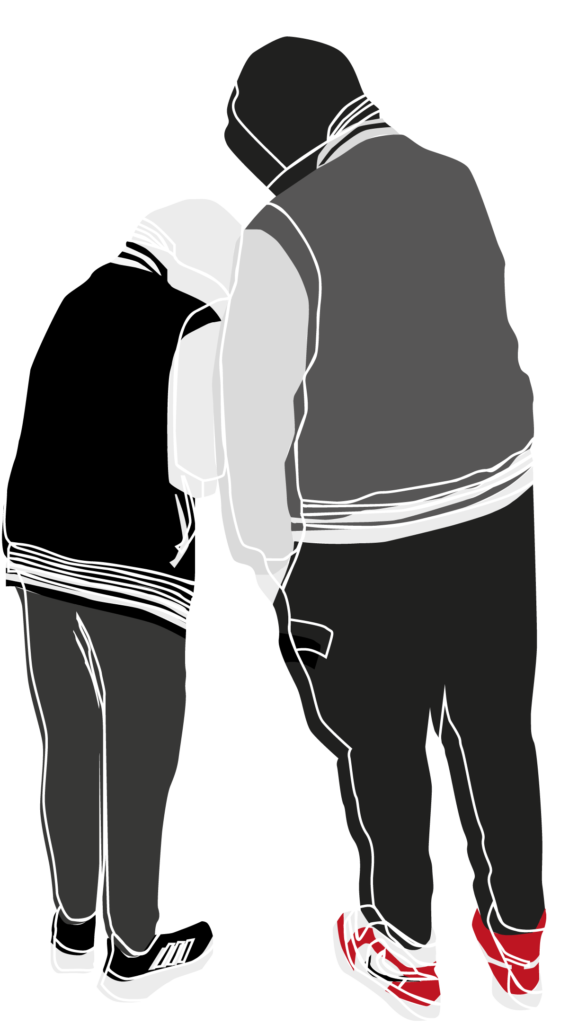 – Regularly absent (often unexplained) from and struggling at school
– Going missing from home, staying out late and travelling for unexplained reasons
– In a relationship or hanging out with someone older than them
– Being isolated or withdrawn
– Having unexplained amounts of money and buying new things
– Wearing clothes or accessories in gang colours or getting tattoos
– Using new slang words
– Being angry, aggressive or violent
– Spending more time on social media and being secretive about time online
– Increase number of calls or sending more texts, possibly on a new phone or phones
– Self-harming and feeling emotionally unwell
– Substance misuse and drinking alcohol
– Committing low level crimes like shop lifting or vandalism
– Unexplained injuries and refusing to seek medical help
– Carrying weapons or having a dangerous breed of dog
Knife Crime
In this story about a group of friends who are groomed into county lines and realise the consequences of carrying knives.
Visit www.nomoreknifecrime.com to learn more about Christina's project.
---
Where to go for further information and support?
There are a range of local and national support services who can provide further information and support, some are listed below.
However, should you have an immediate safeguarding concern about a child in North Yorkshire go to the NYSCP Worried About a Child page for advice on the steps you need to take.
Toolkits to support practice
The Home Office have produced a toolkit to support frontline staff working to safeguard children and young people under the age of 18 from sexual and criminal exploitation. This includes, but is not exclusive to law enforcement, social care, housing education, the voluntary sector and related partner organisations. To download a copy of the toolkit click below.

Home Office Child Exploitation Disruption Toolkit:

Local Support Services


The Children's Society Hand in Hand Project is running in North Yorkshire for young people who are experiencing or are at risk of sexual and/or criminal exploitation.

Dedicated specialist workers provide direct support to enable young people to recognise themselves as victims, increase resilience and make informed choices to lower the risk and/or stop the risk of exploitation increasing.

For more information about the Hand in Hand Project click onto their website here.


Parents Against Child Exploitation (PACE) helps parents and carers across the UK, including in North Yorkshire, understand what is happening to their child and how parents are the people who are best to help their child exit exploitative relationships. PACE do this by offering:

– One-to-one telephone advice and support to parents
– Facilitating meetings with similarly-affected parents for peer support
– Advising how to establish rights as parents and work in partnership with statutory service such as police and social workers
– Advice and support when pursuing disruption and prosecution of the perpetrators of child exploitation
– Befriending scheme

To download a PACE referral form, please see the link at the bottom of this page.

For more information on PACE visit their website here.
The Trusted Relationships project offers support for children and young people (principally aged 10 – 17) who are primarily at risk of or subject to Child Criminal Exploitation (CCE), including County Lines, Child Sexual Exploitation (CSE) and Modern Slavery.  Central to the project delivery model is the ambition to foster positive, persistent and long-term relationships and develop protective factors that build resilience in this highly vulnerable group of young people.  To find out more about the project, please see the following links:

Trusted Relationships – One Minute Guide

If you have a concern relating to a child at risk of CCE or subject to CCE, please follow the referral pathway set out in the flow diagram (above).  As part of the Child Exploitation Risk Assessment process, which the Children and Families Service will undertake in conjunction with partners, 'Trusted Relationships' will be considered as one potential support option. If it is determined that the case would be suitable for and would benefit from Trusted Relationships support, the Children and Families case-holder will be asked to complete a Trusted Relationships referral. 
National Support Services

NSPCC provides support nationally on the prevention of child abuse, including a wide range of resources on CCE. Visit the NSPCC website here to view the work they are carrying out on CCE.


Think U Know from CEOP, supports professional to deliver education and raise awareness of online child abuse and exploitation. To view the Think U Know Resource Library click here.


The NWG, is an exploitation response charitable unit who disseminate information to services working on the issue of child exploitation and trafficking within the UK. They offer support and advice, provide updates, training and share national developments.

Visit the NWG's website here.
---
NYSCP Podcasts
NYSCP has produced a podcast series on Engaging with Children and Families affected by Child Exploitation.
Each episode we sit down with a frontline professional in North Yorkshire to discuss the challenges and approaches they use to support children and families affected by child exploitation.
---
NYSCP Further Resources on CCE
County Lines, Cross Border Gangs and Cuckooing One Minute Guide
Criminal exploitation and County Lines Practice Guidance
All Practice Guidance and One Minute Guides can be found in our professionals section: NYSCP (safeguardingchildren.co.uk)